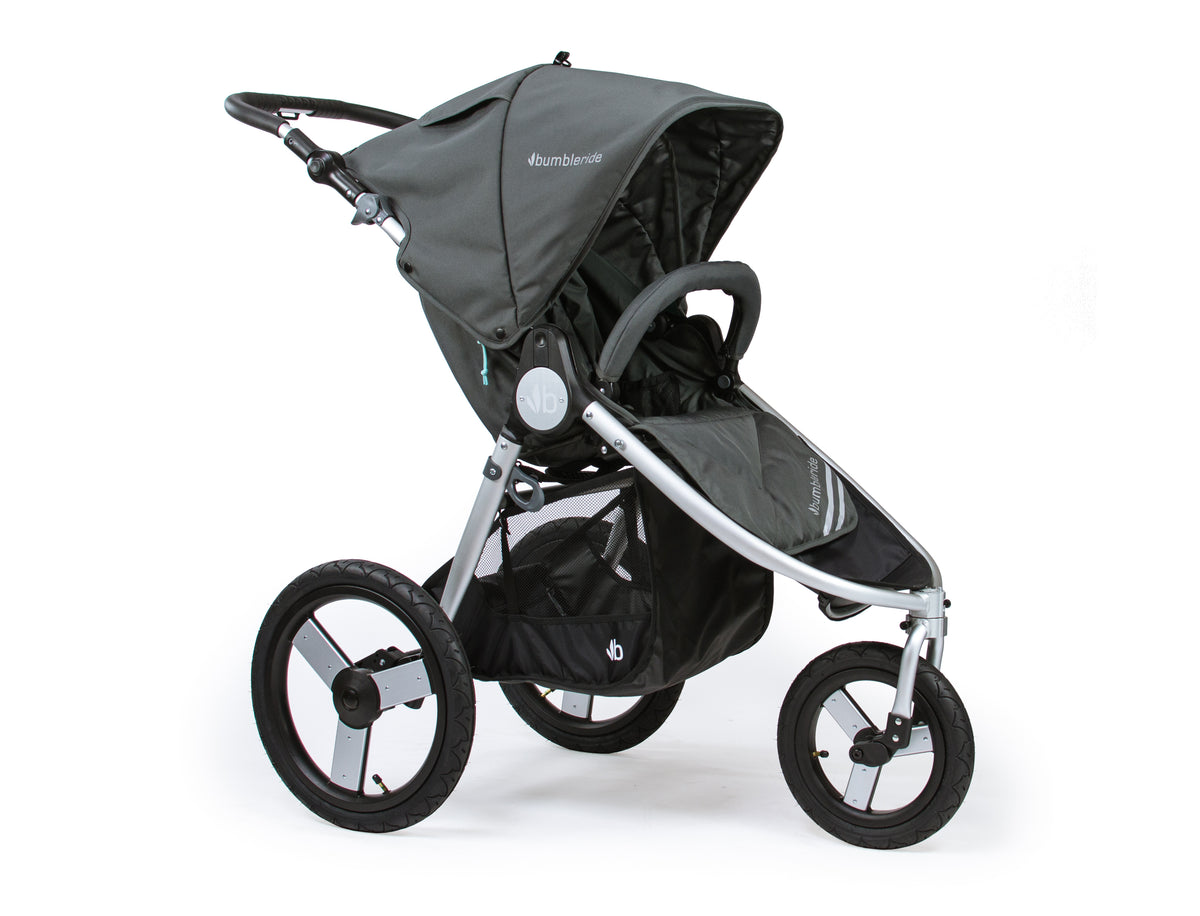 "This comes down to personal preference and is a bit like buying a car. You can add on as many fancy extras as the budget allows. A good starting point is to ask yourself these questions:
Will I be running in the sunshine? If yes, look for styles with sun canopies that have in-built SPF.
Does my child like to have snacks in easy reach? Choose a buggy with pockets in the seat.
Will I be putting the buggy in the boot? Removable wheels can make this easier.
Do I run hot? If so a buggy that has a storage with zips will ensure you can quickly and easily store your running jacket mid-route.
Will I use the buggy before my baby is 6 to 8 months? Now this is important. If you want to get your cardio in before your baby has the neck and head control in the sitting position to withstand fast movements then you <must> go for a buggy that has a bassinet option and walk, not run. Even when your baby reaches the safe age to accompany you on a jog, consider easing them in slowly. Safety wins over your need for speed.
When can I start running with a buggy?
Your baby isn't the only one that needs to be strong enough to go running in the first year after birth. You need the greenlight from your doc at 6 weeks, although, it's not wise to run out of the GP's office at full tilt, either."

Best Running Buggy for Beginners
"Pros:
Multi-functional front wheel for greater confidence and control
Plenty of storage
Adjustable handlebar
Cons:
Tricky to fasten the harness in haste
Brake could be better positioned and there's no handbrake
The best thing about this buggy is its Speed3 Steering, which means the front wheel can be locked, swivel 360° or be partially locked, enabling you to run, jog or walk feeling fully in control –great news for beginner runners when you might run-walk more than continuously jog. There are clear step-by-step instructions for set up – it took our tester about 15 minutes - and there are plenty of handlebar height positions available.


Another big pro is the amount of on-board storage. Not only does it have a basket in the base (where you can handily store the supplied tyre pump) and a zip pocket for phones at handlebar height, it also has drink pockets for both user and passenger, which little hands can easily access.
The five-point padded safety harness kept our passenger secure, but we did find it took a little bit of effort to figure out, so you can't do it in a hurry right away. The seat can recline in every position possible too, but the upright option was a bit tricky to manage single-handedly.
Our tester felt strong and confident when running, gliding over all of our test terrains due to the excellent three-wheel suspension. We found the larger length of the wrist strap useful too, as it allowed for a more comfortable running style. The brake is located between the rear wheels and was effective but would be better positioned on the handlebar for comfort and ease. It doesn't feature a handbrake when stationary either. It's easy to check on your little one though, thanks to the magnetic viewing window on the canopy.
We love that the fabric is made out of 100% recycled polyester, using 28 water bottles per buggy. It's also quick to fold down and store, easily fitting into a car boot."


Learn more about Speed.
Read the whole Best Running Buggies article.